Bayhill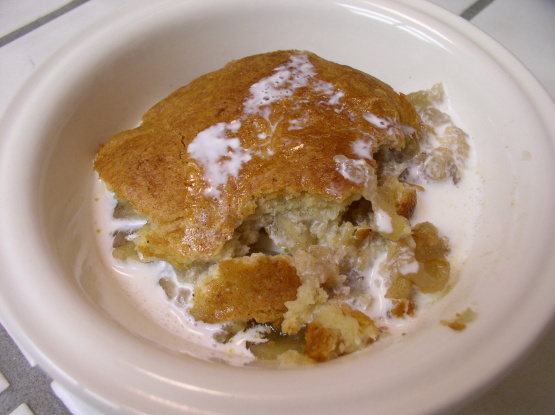 This recipe is from a cookbook I picked up at an apple orchard. Since I picked a variety of baking apples, so I was able to combine some different kinds to get a delicious result.
The spices and their proportions were very tasty, but there was too much sugar in my opinion. I don't like my desserts to be overly sweet, so I cut it down to 1/2 cup. It was just the right amount. I didn't think there was enough of the biscuit dough to cover the fruit adequately. However, I did use a larger pan, so that contributed to the problem. I used 5 large apples, and that was plenty. If you are using very small apples, then 7 would probably be the right number. I prefer a cake-like topping over biscuits, so I probably won't make this again. Go ahead and try this if you like the biscuit kind of crust. (Hubby liked it a lot.)
Pare, core and slice the apples. Combine apples, spices, sugar and lemon juice. Place in 8" baking dish and dot with 3 tablespoons butter.
In a separate bowl, mix flour, baking powder and salt in a bowl. Stir in brown sugar and cut in butter until mixture is crumbly. Stir in milk, mixing until dough forms a ball. Pat over apples in pan. Brush top with milk and sprinkle with sugar and cinnamon. Bake at 350 degrees until apples are tender and crust is lightly browned. Serve with half-in-half poured over servings.