Brenda.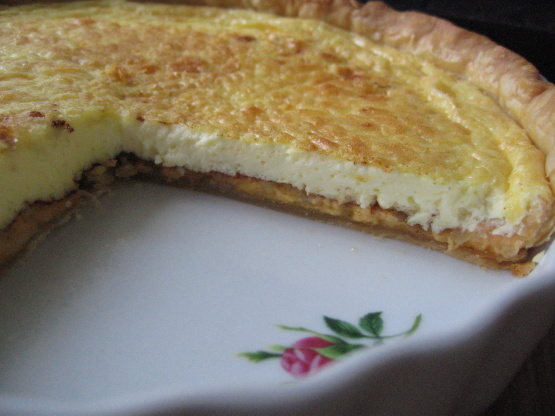 The original recipe came from the April 1992 issue of the Yankee Magazine under the article 'Breakfasts to Crow About.' Inn keepers said that returning guests always asked for it. I surely understand why! This is one that will wow your overnite guests. When I first read this recipe I immediately began to chew on the contents, if you know what I mean! I hope you will enjoy it as much as we do whenever I make it. This would be excellent for an Easter Brunch! And it is so quick and oh, so easy even for a new bride! Note, I tweeked the recipe a wee bit and I sometimes add a dash of Saigon cinnamon for a little kick!

I didn't know what to expect. I kept thinking sweet or savory? All I can say is I am so very glad I tried this recipe! The texture is like a silky custard pie. The shredded apple taste sneaks thru every so often as does the cheddar cheese. I honestly have to say that I did not really taste the cinnamon but may up it a bit next time just out of curiosity. I can see why guests look forward to this treat. Served with thinly sliced Granny Smith apples. Thanks so much for sharing and for the bit of history behind the recipe :)
Peel, core, and grate the medium-sized tart apple in a small bowl.
Slice the butter into pats.
In a small dish, combine the sugar and cinnamon and set aside.
In a small saute' pan over medium heat, melt the butter and saute' the grated apple stirring occasionally for 5 minutes.
Combine apple/butter mixture with the grated cheese until mixed well and scatter evenly over the bottom of the pie shell.
Now sprinkle the sugar/cinnamon blend over the apple-cheese mixture.
In a medium-sized bowl, lightly whisk the eggs and whipping cream together. Pour over the apple-cheese mixture.
Bake in a preheated 375 degree F oven for 35-40 minutes or until set.
Ovens vary. For instance, in my oven it only takes 30 minutes. Please don't overbake it.