Apple Cinnamon Pork Tenderloin
Derf2440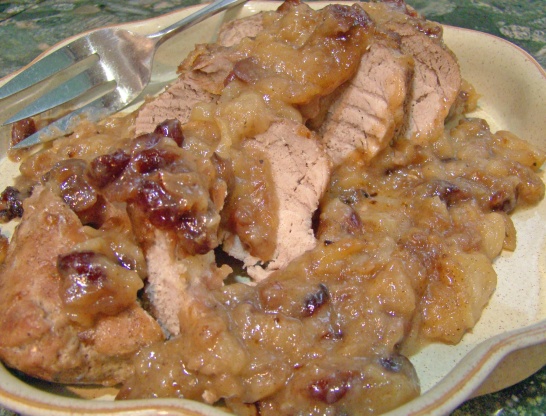 This meal is simple to make and delicious. A great substitution at Christmas if you don't want the labour of preparing a turkey dinner. Using dried cranberries instead of raisins adds great colour to the dish. I use the ingredient amounts and cooking times as estimates and vary them to suit the size of the pork tenderloin. I sometimes also add some fruity wine vinegar to the apple mixture for some added flavour.

Fantastic! This recipe was very easy to make, quick to prepare, and so very yummy! My sweetie and I loved the flavor, and the pork was so tender. I did, however, add a 1/4 cup of water, as the recipe didn't call for it, but I felt it was necessary. We used the left over cooked cinnamon apples as toppings for our vanilla ice cream, contributing to a delicious dessert too! Thanks so much for sharing!
Preheat oven to 400 degrees.
Place the tenderloin in a roasting pan or casserole dish (I use cooking spray first to make clean up easier).
Combine the remaining ingredients together and stir.
Spoon the apple mixture around the tenderloin, cover and bake for 30 minutes.
Remove the lid and spoon the apple mix over top of the tenderloin.
Place back in the oven and bake 15 to 20 minutes or until tenderloin registers at least 155 to 160 degrees on a meat thermometer.