gertc96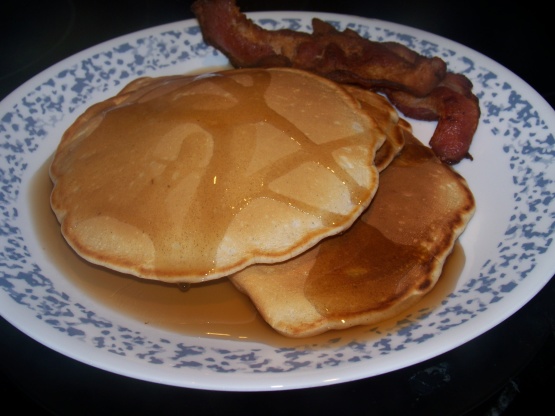 Taken from the 2010 Milk Calendar

Delish! <br/>I cut the serve down for 2 people, so rather than waste 1/2 an apple I added it. Was really nice, more dense/moist because of the extra apple, but wonderful! I also cut the butter in 1/2 (for 2 people it was supposed to be 2 tablespoons).
In a large bowl, combine flours, baking powder, cinnamon and salt.
In a separate bowl, whisk together eggs, milk, melted butter and brown sugar, pour over dry ingredients and add apples.
Stir gently just until combines (a few lumps should remain).
In a large non-stick pan over medium heat, melt a thin layer of butter or use cooking spray.
Scoop about 1/3 cup batter per pancake into pan.
Cook for 2 minutes or until bubbles break but do not fill in, turn and cook 1-2 minutes longer or until golden and puffed.
Repeat with remaining batter.