loof751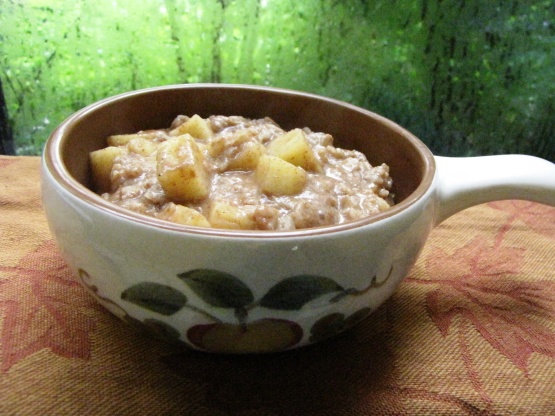 A wonderful, warm, soothing way to wake up in the morning. So full of flavor, you'll be wanting more. When making this, I never measured the amount of cinnamon, nutmeg, or sugars I used so add more or use less to taste...it's up to you.

Just what I was craving! I love that this recipe calls for cooking the oats in milk and water. I never thought to try that before. I usually just go with one or the other. I used half the amount of butter and half the amount of sugar called for and added a few raisins. It turned out perfect for us. Thanks for sharing the yummy recipe!
Melt margarine in a large saucepan over medium heat. Add diced apple and cook until apple is slightly soft (about 3 minutes.).
Add milk, water, and salt to saucepan and bring it up to a boil.
When the milk and water comes up to a boil, add Oats, cinnamon, nutmeg, and sugars. Stir to fully incorporate. Add more flavors to taste.
Cook at least 5 minutes, or desired consistency. Makes two servings.