Apple Cinnamon Granola Cookies
Pajene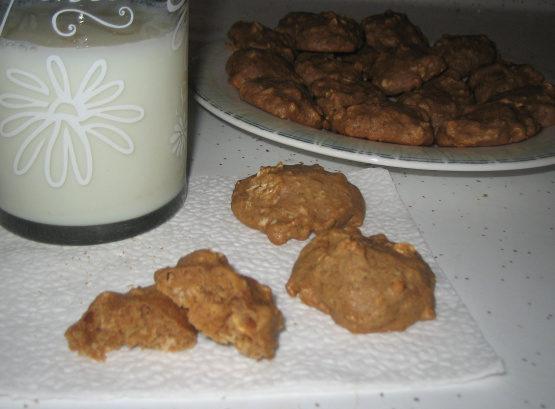 I love baking and experimenting with recipes. A couple of nights ago I had purchased some granola on sale at the store and wondered if I could substitute it for oatmeal. After viewing several recipes for oatmeal cookies, I decided just to put together something myself. The result? Well, lets just say my husband LOVES them!

Followed your recipe right on down, to & including the almonds! I did, however, make them pretty big & got 26 cookies, but that in no way detracted from their great taste! Absolutely wonderful, & we thought they made delicious breakfast cookies! Thanks for the keeper recipe! [Made & reviewed for one of my adoptees in this fall's round of Pick A Chef]
In a microwavable bowl measure out the applesauce and add butter in slices. Microwave this for about 1 minute. If butter isn't completely melted give it another minute.
Stir in the brown sugar 1/4 cup at a time. Stir until Smooth.
Add cinnamon, baking soda and vanilla.
Beat in the egg.
Slowly add flour, continuing to mix until smooth again.
Fold in granola (and almonds).
Spoon drop batter onto lightly greased baking sheet, about 1 inch apart (cookies will puff but shouldn't spread outward).
Bake at 350°F for 12-15 minutes - until lightly golden and firm.
Allow them to cool on a wire rack about a minute or 2.
Now ENJOY :).