Apple-Cinnamon Crumble Pie
amid9603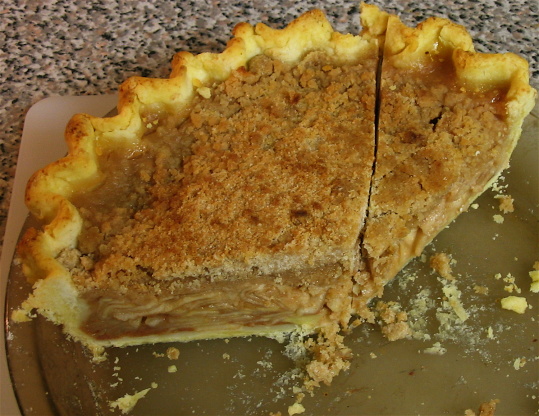 This is just as good made without the crust and just baked in a 9-inch baking dish, make certain to use Granny Smith apples or similar baking apples, a frozen deep-dish 9-inch pie shell will work well for this

I'm not rating this just yet. I made a recipe very close to this except the filling did not call for butter. That made the filling just flour tasting. I plan to make this at Christmas time. But the crumb topping was so good! Will give star rating when I make this again.
Set oven to 400 degrees F (oven rack set to lowest position).
Prepare a 9-inch deep-dish glass pie plate.
Fit the pastry into the pie plate and flute edges.
For the filling; mix together all ingredients making sure that the apples are coated well; set aside.
For the topping; in a processor blend first 5 ingredients; Add in cold butter pieces and process using on/off turns until the mixture resembles wet sand.
Toss the filling ingredients again to redistribute the juices, then transfer to the prepared pie shell, mounding the apple filling in the center
Using your hands pack topping over and around the apples.
Place the pie plate on a baking sheet.
Bake at 400 degreesF for about 35 minutes or until topping is golden (cover with foil if topping is browning too quickly).
After 40 minutes REDUCE the oven temperature to 350 degrees.
Bake until apples in the center are fork-tender and the filling is bubbling thickly at edges (about 30 minutes longer).
Cool until warm (about 1-1/2 hours).
Serve with ice cream.