Apple - Cinnamon Bread Pudding
Hanka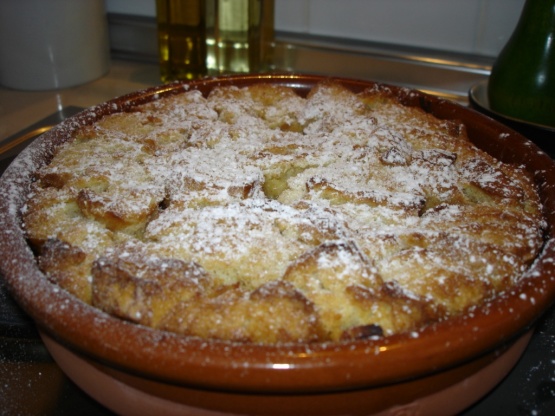 What a great way to use old baguettes. Delicious and easy bread pudding. We love it warm with vanilla ice cream and if there are any leftovers, we have it for breakfast.

I modified this recipe to cut down on fat and eliminate sugar. I used 2 cups of milk and 3 eggs instead of the heavy cream and egg yolks. I also replaced the sugar with a 1/2 cup of agave nectar and added more apples and some nutmeg. The result was good, but not overwhelming.
Slice baguette and put into large bowl.
Bring milk and cream to boil.
In medium bowl mix eggs, egg yolks and sugar, vanilla and cinnamon.
Pour hot milk mixture over the egg mixture whisking well.
Pour over sliced baguette and let it soaked for few minutes.
Peel and coarsely shred apples or slice them thinly if you prefer.
Butter a 10-inch baking dish. Put half bread mixture on the bottom add apples, raisins and cover with rest of the soaked bread.
Pour remaining soaking milk over.
Sprinkle with granulated sugar if you like.
Bake in oven at 375°F for about 1 hour until nice and golden brown.