Tammy H.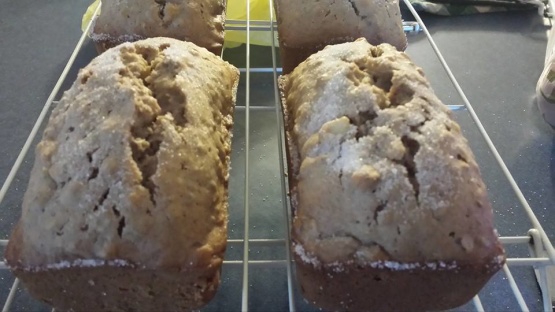 This is a moist and delicious quick bread from a church cookbook called, ... not by bread alone. I have not made it with walnuts.
Mix together first 5 ingredients. Set aside.
Mix 1 cup sugar with oil in large bowl. Stir in eggs and vanilla, then apples and nuts, if using. Stir in dry flour ingredients.
Pour into greased loaf pan.
Bake at 325 F for 50 to 60 minutes.
After bread has baked for 20 minutes, remove from oven and sprinkle with 1 teaspoon sugar. Return to oven and finish baking.
Do not undercook. Requires frequent toothpick testing at the end. Many variables seem to affect final doneness.
Let cool in pan.
Note: I made 2 mini loaves and baked them for 45 minutes.