Apple Cider Marinated Rack of Pork Roast
Peter J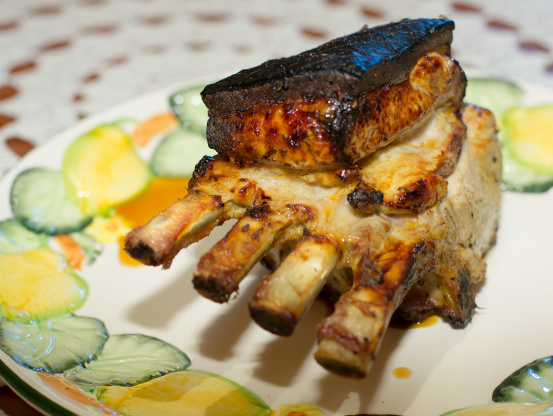 This is an easy roast for a Sunday dinner. Plan on two chops per serving. Preparation time includes marinating time.

Beautiful! Made all as directed apart from the cooking time seemed a bit light-on so cooked at 220C/430F for 20 minutes to crisp up the crackling followed by 190C / 375F for an hour. Meat was done perfectly and still nice and moist. While cripsy and delicious I blackened the crackling a little bit too much, so next time will stick with 190C / 375F for 1.5 hours. Loved the drizzling sauce, nice apple flavor along with a touch of sweetness from the honey. I also wrapped a little foil around the ribs to stop them burning.
Place all ingredients, except pork, in a bowl and whisk until combined.
Place roast in a zipper-type gallon baggie. Pour marinade over pork and close baggie. Place in refrigerator for 4-6 hours, turning occasionally.
Preheat oven to 325°F.
Spray a medium sized roasting pan and a wire rack to fit pan, with nonstick cooking spray.
Remove pork from marinade and reserve marinade. Place pork on rack in pan and put in oven on center rack.
Roast 15 minutes per pound, Basting occasionally with reserved marinade, until instant-read thermometer inserted in center reaches 160°F Remove roast from oven and let sit on carving board about 10 minutes.
Place roasting pan on stove burner, over medium heat, and pour in reserved marinade. Stir to loosen browned bits on bottom of pan. Heat until marinade and pan juices are hot.
Slice roast between rib bones and serve, with pan juices drizzled on chops.