ImPat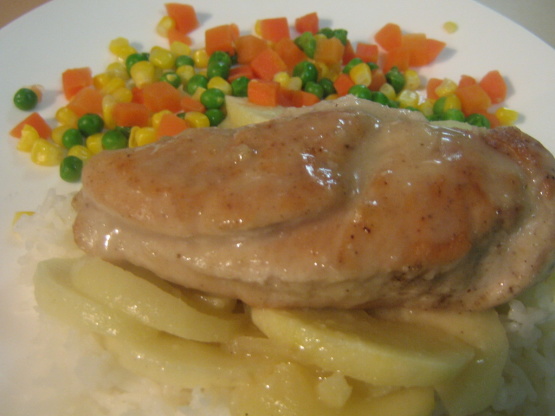 I found this recipe on dlife.com. I thought it sounded very yummy. Of course since I'm on a gluten free diet I made a few changes to the recipe.

I'm not quite sure what happened, but this did not turn out for me at all. The apples came out tasting of the cornstarch, and I had to cook down the cider for much longer than 20 min. I would like to make this again, and see what happens. It must have been operator error, not the author! Made for Comfort Cafe Snow Queen Chalet Jan 2010.
Mix the flour, salt, pepper, garlic powder, and sage in a shallow pan. Dredge the chicken through the flour mixture.
Heat the oil in a large skillet over medium-high heat; add the chicken and brown each side 5 minute In a large mixing bowl, whisk together the cornstarch and milk, then add cider. Add the apple slices and cider mixture to the chicken; simmer, uncovered, until the apples are tender, about 20 minute The cider should be reduced by half of the original volume.
Place the chicken and apples on plates and top with the apple cider mixture.
Serve over rice, if desired.