Kree6528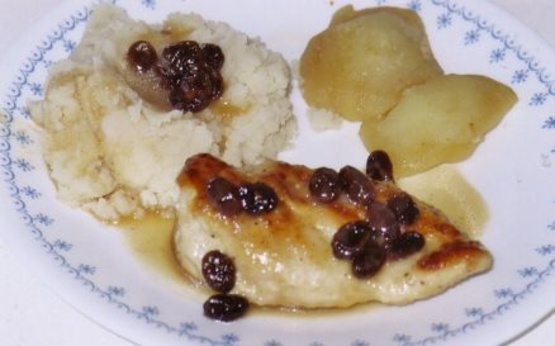 Try this recipe with pork chops also, very good with either.

This chicken has a great flavor. My family really enjoyed it. It did come out a little tough, though, which may have just been the chicken breasts themselves. Even so, I plan on letting it simmer a little longer next time to make sure it gets nice and tender. I'll definitely be making this again!
In a small bowl, combine flour, salt and pepper, mix well.
Sprinkle mixture on both sides of chicken.
Heat oil in large frypan over medium high heat until hot.
Add chicken, cook until browned on both sides.
Add apple cider, vinegar, quartered tart apple, raisins and gingerroot, mix well.
Reduce heat to medium low, cover and simmer 5-10 minutes or until chicken is no longer pink in center.
Remove chicken and apple from frypan, place on serving platter, keep warm.
Increase heat to high, bring cider mixture to a boil, stirring constantly.
Cook until slightly thickened.
Pour mixture over chicken and apple.