Pamela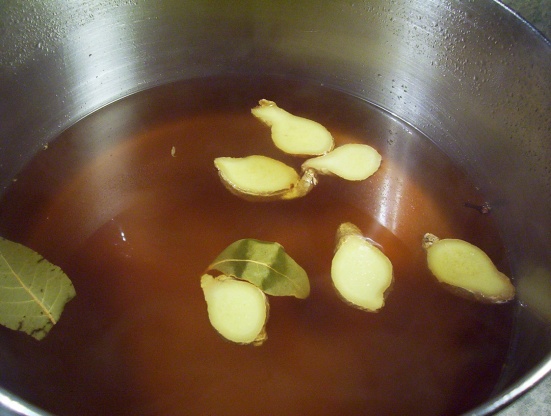 For holiday turkeys. This keeps the breast meat moist and flavorful.

This is the first time I've brined and we loved it! Sue, I like your method of using the turkey cooking bags and turning the turkey now and then...it worked well for me in my tiny kitchen (and equally tiny refrigerator). I never could of fit a bucket in my fridge and the weather wasn't quite cold enough to keep it in the garage. I used your recipe, as is, and then grilled the turkey on my Weber. Oh, was it good! DH can't stop talking about it, I'll be doing turkey this way from now on. Thanks so much for this recipe, I'm now a brining pro!
In a 3-4 quart saucepan, combine cider with salt, sugar, ginger, bay leaves, cloves, peppercorns, and allspice; stir to dissolve salt.
Bring to a boil over medium heat; cook 3-4 minutes; remove from heat, add 4 cups of ice water and set aside to cool.
Line a heavy roasting pan with turkey-sized oven cooking bags (which should be double-layered).
Remove the turkey from it's wrapping, remove neck and giblets (store separately), and rinse and prepare bird.
Stuff cavity with orange quarters.
Make a collar of the top of cooking bags (helps keep bags open), and slip bird inside, stand it upright (legs pointing up), and unfold the top of the bag.
Pour the brine over the bird, and add an additional 2 cups of water.
Draw up the first inner bag, squeezing out as much air as possible, and secure with a twist-tie; do the same for the outer bag.
Place the turkey, breast side down, in the roasting pan and refrigerate for 12-24 hours, turning 3-4 times while brining.
Just prior to roasting, remove the turkey from the brine; discard the bags, brine, and all cured herbs, spices, and oranges remaining in the bird.
Rinse the turkey under cold water and pat dry with paper toweling.
Air-dry turkey under refrigeration for 4-6 hours (before cooking) for a crispier crust when roasting.
The turkey is now ready to be roasted.