Chilicat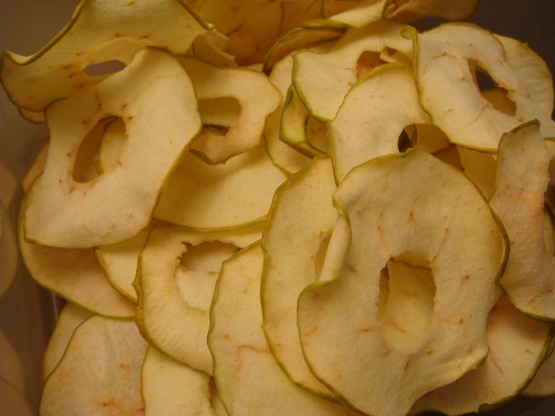 These are a favourite snack around here in the fall, and friends are always asking me to make them. I couldn't believe I couldn't find a recipe for them here. They're quick and easy, fairly healthy, and really take care of a sugar craving. I've always made them the same way, so if you find any good variations, let me know!

These are absolutely awesome and taste just like those expensive apple chips you can buy in the stores. I used a mandolin to make super thin slices (2 mm) and sliced my Granny Smiths right into a bowl of Fruit Fresh and water to keep them from getting brown. The only thing I had problems with was getting the apples off the parchment. I would highly recommend turning the slices over while they are still a bit pliable then letting them finish drying, because they *will* stick like the dickens. I didn't think to turn them until they were already crispy, and by then the parchment was also crispy and brittle. Most of them came off okay but I ended up with a lot of ripped parchment and apple fragments. That being said, the end result was totally worth the effort. Light, crispy chips with just the right amount of sweetness - they couldn't be better! Next time I may try tossing a cinnamon stick into the simple syrup. Thanks for posting - I never would have dreamed making my own apple chips would be so easy!
Preheat oven to 200ºF.
Combine the water and sugar in a saucepan and bring to a simmer to dissolve the sugar. Remove from heat and let sit.
Core the apple, and, with a slicer, slice it thin (absolutely no thicker than 1/8"), and dip the slices in diluted lemon juice (to prevent browning).
Place the apple slices into the sugar-water solution, making sure that each slice gets coated. Let them soak for about 15-20 minutes (depending on thickness).
Arrange the slices in a single layer on a baking sheet covered with either parchment paper or a silicone mat (these can REALLY stick).
Put them in the preheated oven for about an hour or until the slices are dry and crisp. Store in an airtight bag or container.
Depending on the size of the apple, the 1 cup water/1 cup sugar will do 2- I multiply the recipe using that ratio for most apples.