Apple Chipotle Salsa (Southwest)
teresas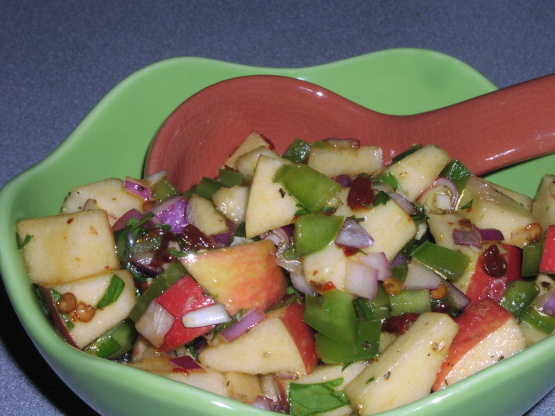 This recipe was found in the 1997 cookbook, Vegetarian Planet. Recommended for quesadillas or burritos.

A 5 star for sure...we enjoyed the freshness of the apple...along with all the other yummy goodies...I would suggest that you chop your apple last...mine was starting to turn brown before I was able to throw in the lime juice mixture...served it with some burritos for lunch...I made as posted and used a fuji apple and left the skin on for color...thanks for posting it...:)
In a large bowl, combine apples with onion & bell peppers.
In a smaller bowl, stir together chipotles with garlic, lime juice, cider vinegar, olive oil & cilantro, then add this mixture to the apple mixture, stirring well before adding the salt & pepper to taste.
Although best served the day it's made, this salsa can be stored, covered, in the refrigerator for up to 3 days.