Darkhunter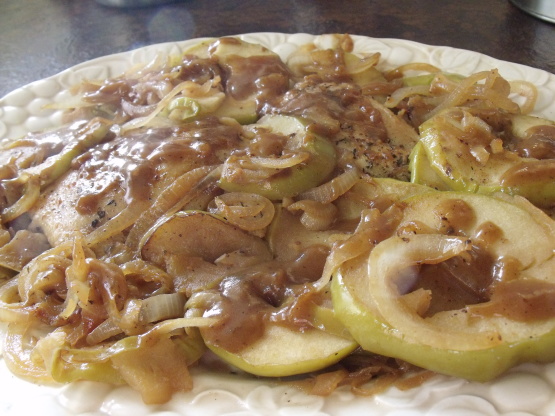 Nummy fall dish, be sure to use apples that keep their shape when cooked, such as golden delicious. adapted from Canadian Living mag.

Absolutely yummy! I just added about 3 tablespoons of honey to the apple juice, and we had a great dinner. I served it with plain rice, and there was lots of gravy/juice for the rice to soak up! Unfortunately, there were no leftovers. I may have to treble the recipe next time...
Sprinkle chicken with thyme, salt and pepper.
In large frypan, heat half of the oil over medium high heat; brown chicken all over.
Transfer to plate.
Add remaining oil to frypan.
Cook apples and onion, stirring occasionsally, until golden, about 5 minutes.
Add apple cider, bring to boil, stirring and scraping up brown bits from pan.
Return chicken to frypan.
Cover and cook over medium low heat, turning once, until no longer pink inside, about 7 minutes.
Transfer chicken to serving platter.
Whisk vinegar with cornstarch; whisk into frypan and cook, stirring, until glossy and thickened, about 1 minute.
Pour over chicken.