Rita1652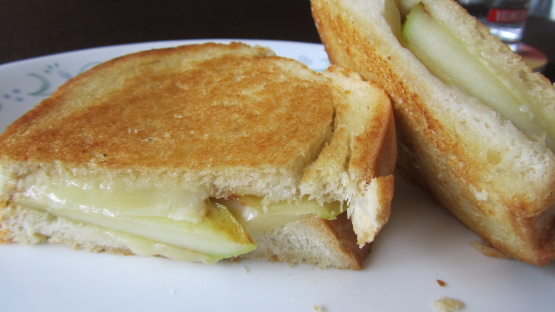 Buddy Valaski is an Italian, who makes a living as a pastry chef. He has two shows on TLC called Cake Boss and Kitchen Boss. On the latter show, Buddy makes primarily Italian food, mostly from Sicily, where his family is originally from. I don't know if Paninis are Sicilian in origin, but Buddy sure knows how to make good recipes!
1.Melt butter in large nonstick skillet. Add apple slices; sprinkle with cinnamon. Cook and stir over medium heat 5 minutes or until golden and tender. Remove from skillet; wipe out skillet with paper towel.
2.Spread 2 teaspoons apple jelly on each of 4 bread slices; top with 1 cheese slice. Arrange one fourth of apple slices over each cheese slice. Top with remaining 4 bread slices.
3.Heat same skillet over medium heat until hot. Add sandwiches; press down lightly with spatula or weigh down with small plate. Cook sandwiches 4 to 5 minutes per side or until cheese melts and sandwiches are golden brown.
*Use sweet apples such as Fuji or Royal Gala.