Pamela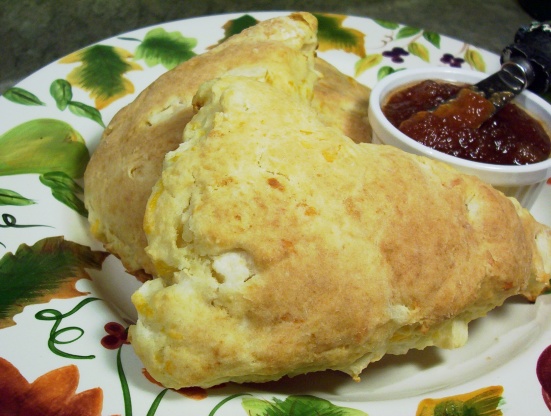 These are wonderful for brunch or add a scoop of ice cream and they make a great dessert. This recipe came from Taste Of Home magazine.

I have made these scones many times, and they have always turned out perfect for me. I use a Granny-Smith apple and I shred my own cheddar cheese (when they pack the shredded, they put something with it to keep it from clumping). You have to have a very light hand with scone dough, don't knead it much. My picky DS loves these!
In a bowl, combine the first five ingredients.
Cut in butter until mixture resembles coarse crumbs.
Stir in buttermilk just until moistened.
Gently fold in the cheese and apples.
Turn onto a floured surface; knead 10 times.
Pat into a 9-inch circle.
Cut into eight wedges.
Separate wedges and place on a greased baking sheet.
Bake at 450 degrees for 12-15 minutes or until golden brown.