Apple Cheddar Potato Soup
Parsley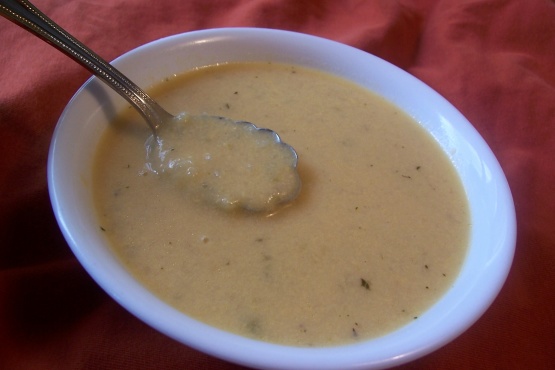 This is a nice autumn soup to make after going apple-picking. Uses simple ingredients.

Excellent Soup! Made it for a dinner party. The only thing I did different was add white cheddar, which I liked the more white color, a pinch of thyme and then garnished with bacon crumbles and a pinch of the white cheddar and a small thyme sprig, just so people new the flavor. The bacon just looked pretty. Excellent recipe, great flavors. The wine just really topped it off for me.
In large saucepan, heat oil. Add apples, potato, celery, onion, and thyme. Saute 10 minutes.
Stir in wine and simmer 2 minutes; add broth and simmer about 40-45 minutes or until everything is very tender.
Using a blender or food processor, puree soup mixture, but leave just a little bit lumpy. Return to saucepan.
Over very low heat, stir in cheese and cream.
In a small bowl, whisk together milk and flour; add to soup and stir. Add nutmeg, and pepper. Cook just until heated through--do not boil or cheese will curdle.
Serve.