Parsley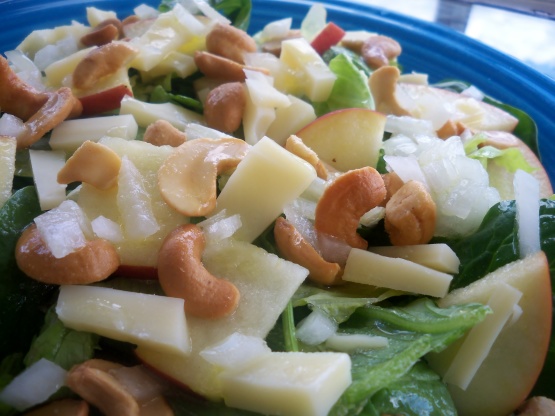 Quick, simple, and easy to prepare. This is a great dish to bring to a potluck or cookout. It vanishes every time! I recommend tossing the dressing and ingredients with the lettuce and spinach right before serving.

Top Review by Nikoma
First salad I have given 5 stars! I really enjoyed this combination, and the dressing was very complimentary. Typically I end up not even useing the dressing given in a recipe with a salad. I usually hate "oily vinegrettes" but this one was lovely! Sweet with a nice tang. Since there are only two of us I simply used a bag of mixed feild greens and divided up the ingredients into two salad bowls (eyeballing the ammounts) and served the dressing on the side (halved the recipe). All I had on hand were raw cachews so I toasted them a little and all was well. I would make this again!
Whisk dressing ingredients.
Mix lettuce and spinach in large bowl and combine with dressing.
Toss with apples, cheese and cashews.