Apple Cardamom Cheesecake
Boomette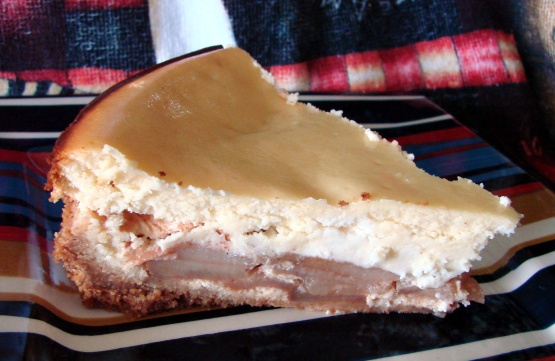 This is from McCormick! Very tasty cheesecake, but then what cheesecake isn't tasty? Cook time does not include cooling or chilling time!

I wanted to make something special for my sister and her DH and decided to make this. The crust went together easily and the recipe was easy to make and assemble. I loved the cheesecake filling with the apples and the taste of cardamon is one of my favorites, so this was a real good choice for me. It was really really delicious and both my sister and her DH gave it 5+ stars, so you know it's a winner! Thank you for sharing your recipe with us! Linda
Preheat oven to 325 degrees.
For the crust: Mix all ingredients together.
Press firmly on bottom and up 1 inch on sides of a 9-inch springform pan.
Set aside For the apples: Cut apples into 16ths.
In a large skillet, combine the apples with the remaining ingredients and cook until apples begin to carmelize, turning often.
Arrange apple slices over bottom of crust.
For the cheese filling: Beat cream cheese until fluffy and then gradually add in sugar, vanilla and lemon peel.
Beat in the eggs one at a time.
Pour over apple slices.
Bake for 60-70 minutes or until lightly browned.
Turn oven off and allow the cheesecake to remain in the oven for about an hour with the door slightly ajar.
Cool in pan.
Once cool, chill in refrigerator for at least 2 hours.