PaulaG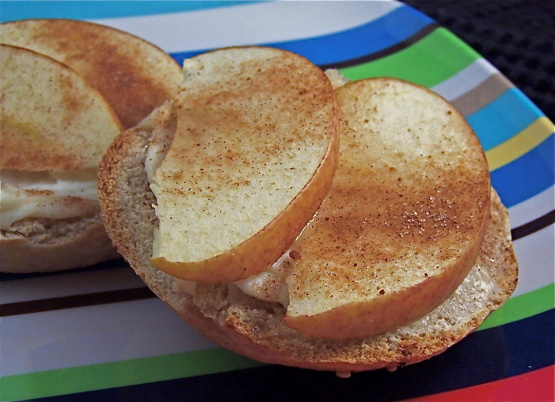 This recipe is modified from a recipe of a food item served in Gloria Jean's Coffee. It may be sort of a strange combination but despite that it soon became my favourite afternoon snack and brain food.

I love apples with cheese so placing it on a bagel was a wonderful idea! I used brie and will certainly try camembert in the future. Pears might also be an interesting choice. I think that I will toast my bagel lightly before melting the cheese next time - just a personal preference. What a delicious start to the day or a great snack. Thanks Tiger.lily :)
On the half of a bagel, spread camembert or brie. If you choose to use fried camembert, search the recipe on Recipezaar, if you choose this option add the fried camembert last.
Slice the apple into thin slices or however you like it.
Place them on the bagel and heat the bagel in the toaster for 3 minutes or until the cheese has melted.
If you choose to use cinnamon, just sprinkle the cinnamon over the toasted bagel.
Its ready to eat!