Apple Cake With Hot Caramel Sauce
Olive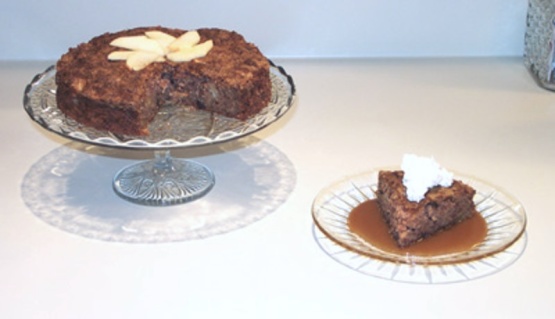 This is a delicious apple cake. I have made it for many years. I got this recipe off of a PBS cooking show in the late 1980's. The cake batter will seem very thick and more apple than batter, but do not to worry. It turns out just fine. You can use your favorite cooking apple. I like gala, fuji, golden delicious, just to name a few. The flavor of Carmel sauce goes wonderful with the cake, but it is very rich. I add only a tablespoon or so to my plates. And don't forget to top it with whip cream! This cake will stay good in the refrigerator for a week (if it lasts that long),and freezes well too.
Preheat oven to 350 degrees.
Peel, core, and chop apples to equal 2 ½ cups. Pieces should be the size of your thumbnail. (Apples can be chopped in a food processor by pulsing them) Set aside.
In a large mixing bowl, cream the butter and sugar; beat until fluffy.
Add the egg and beat until blended then mix in baking soda, salt, cinnamon, and nutmeg; add the flour. Stir just until blended. Stir in the apples and nuts. Pour into an lightly greased 9-inch round cake pan.
Bake for 30 minutes or until the top springs back when touched lightly in the center with your finger.
Prepare Caramel Sauce:.
In a saucepan, melt the butter, brown sugar, & salt. Bring to a boil; stirring with a whisk. Remove from heat and whisk in the vanilla and evaporated milk.
To serve, ladle 1-2 tablespoons of the hot Carmel sauce onto serving plates. Cut cake into 8 wedges.Place a wedge of cake on top of Carmel sauce. Garnish with a dollop of whipped cream.(You can also add 2 thinly sliced apple wedges with the peeling left on for garnish). The cake should be served warm, or at least room temperature. This is a wonderful rich dessert.
The sauce can be made ahead of time and then reheated in the microwave. You can also spoon out a tablespoon or 2 on a saucer, and reheat that amount up for a single serving.