Lalaloula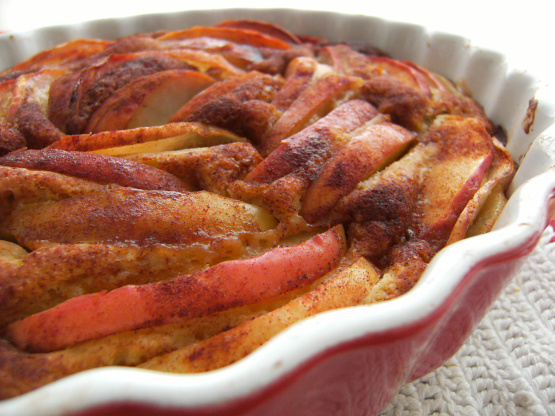 This cake is best eaten warm with either icecream or my favourite warm custard and is reasonably quick to put together. Please note the batter will be thick which makes it one of those cakes that needs to be eaten the same day and preferably warm.

WOW, this is such a YUMMY cake! It bakes up beautifully and has such a yummy cinammon apple taste. Very, very good! :)
I made this using crips pink apples, a tart-sweet apple which holds up nicely during baking.
Even though my apples were ordinary in size I only needed one apple thinly sliced to cover the dough and I also only needed 2 ts of sugar and cinnamon mix sprinkled on top to make a decadent coating. I sprinkled the excess on top of the slices from the second apple and baked those alongside the cake which made for a yummy dessert, too. :)
The dough was spongy and firm at the same time, which was so good with the moisture from the apples. I inserted mine partially into the dough so that it would absorb their moisture.
I also made my own self-raising flour by adding 1 ts baking powder, 1/8 ts baking soda and a pinch of salt to ordinary flour. It worked out really well and was still so easy to make.
I am sure this would also be great with other fruits. :)
Made and reviewed for Everyday Is A Holiday Tag Game June 2011.
Preheat oven to 180 degree celsius.
Grease pie plate.
Sift flour with and sugar and then add the egg, melted butter and milk and mix well.
Pour mix into greased pie plate.
Mix cinnamon and sugar together.
Arrange sliced apples on top and sprinkle with sugar and cinnamon mix.
Bake in oven for 30 minutes or until a skewer comes out clean once pierced.