Hanka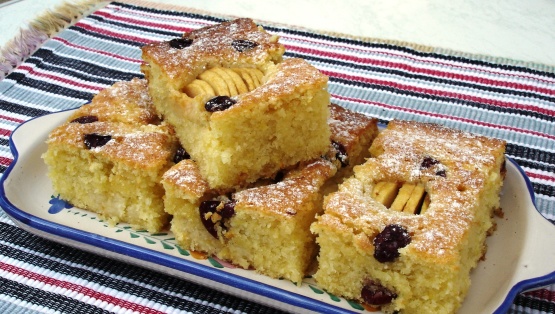 I make this cake quite often because is easy, light and moist from apples. I love it the day I make it my DH prefers it next day If there is any! You can use different type of fruit like pears or cherry.

This cake was moist, sweet , and delicious. Zaar gave really weird conversions to the U.S. system so I had to wing it. The 8 oz. of butter was probably a bit excessive so I would cut back a bit next time. I used 1 1/4 cups of flour and nearly a cup of milk. I used lemon juice instead of zest and sprinkled with cinnamon. Yum! Made for PAC Spring '08
Preheat oven to 170°C (370 F).
Butter baking pan 21x31 cm. (12x8 inch).
Peal,quater and core apples (you need 12pc). Make lengthwise cuts on the outer rounded side 1/8inch.apart so the apple quater still holds together. Set a side.
In medium bowl cream butter and sugar.
Add eggs one at a time, lemon zest and mix until combines.
Then add milk alternately with flour+baking powder.
Pour mixture into baking pan and put apples over the bater but don't push them down.
Sprinkle with raisins If you like.
Brush apples with melted butter and sprinkle little bit of sugar over the top of the cake.
Bake about 45-50 minutes.
Let it cool and cut in 12 squares.