Leslie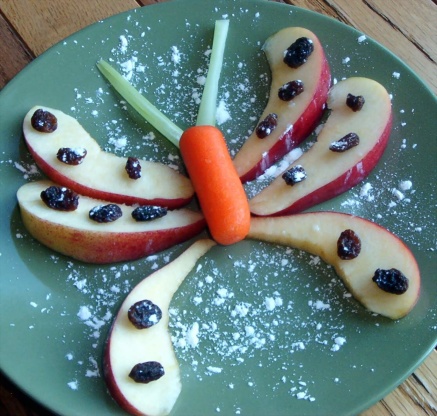 Your kids will fly right home for these delicious after-school nutritious snacks that look like beautiful butterflies. Add a few raisins on each "apple wing" and they transform into butterflies with spotted wings. Spice up the flavor by adding 1/2 teaspoon cinnamon to the peanut butter. From Pillsbury.com

Cheryl - you are by far the most creative mom ever! My son loved it! At first he didn't want to ruin it - so he first ate the celery since he said it still looked like a butterfly without it - then the raisins, then a bite from each wing - it was hilarious! He finally just gave up saving the poor butterfly and gobbled it up! Thanks for a great treat!
Spoon 2 tablespoons peanut butter onto center of each of 4 individual plates. Shape peanut butter on each plate into a mound about 2 inches long and 1 inch wide. Place 1 carrot down center of each mound of peanut butter.
Cut apple into quarters; remove core. Cut each quarter into 7 thin slices; cut 1 slice in half crosswise. Fan 3 apple slices on each side near top of each carrot to form upper wings. Place 1 half-slice on each side near bottom of each carrot to form lower wings.
Place 2 strips of celery at top of each carrot to form antennae. Sprinkle apple slices with decorator sugar (optional).
Decorate wings with raisins, craisins, peas, fruit loops or Cheerios.