Pamela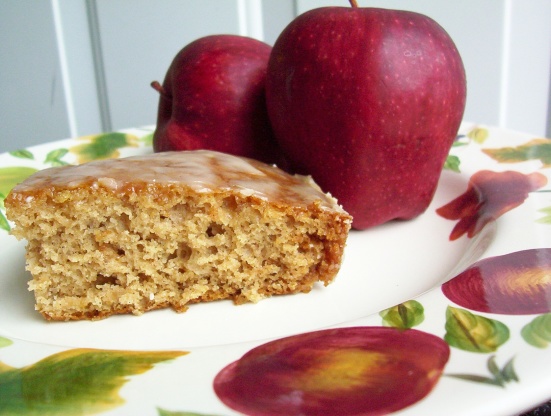 This cake is worth making apple butter for in itself but you could also use a thick applesauce. It's low in fat and delicious. If your apple butter contains some of the spices in this cake reduce the amount of spices accordingly.

Great cake and very easy too. I didn't read the recipe beforehand and missed the part about reducing the spices if your apple butter had spices in it - thought it was going to be way too spicy ~ but it wasn't ~ it was just right. This recipe converted to gluten free very well ~ I did add 2 T of ground flax seed to the batter (standard practice for me). The frosting is just right - any more would have made the cake way too sweet.
Combine flour, spices, baking powder, baking soda and salt. Set aside.
Combine butter, apple butter, sugar and oil in large mixing bowl. Stir until smooth.
Add in the raisins, buttermilk, egg and vanilla extract. Mix until well combined.
Add the dry ingredients and stir until just combined.
Pour into a lightly sprayed or greased 9 x 13 inch baking pan and level the batter.
Bake at 350 degrees for 25 to 35 minutes, until a toothpick inserted in the middle comes out clean.
Cool on rack 25 minutes or until just warm.
Combine glaze ingredients and whisk until smooth. Drizzle over warm cake or spread thinly and then let cake cool completely.