bzmomo3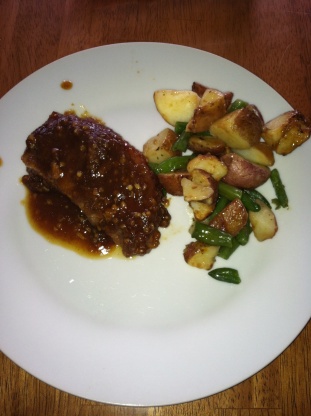 Everyone always talks about applesauce and Pork chops...why not apple butter???

Cant get any easier than this. I only fixed 2 chops but left the apple butter and garlic the same, which I probably shouldnt have done since it didnt allow the chops to brown. Next time I think I'll put some of the apple butter/garlic mixture underneath the chops for even distribution of the sauce. All in all, pretty tasty chops that are easy breezy to make. Thanks for sharing.
Place pork in a casserole dish.
In a bowl mix applebutter and garlic.
Spoon mixture on top of pork.
place in oven at 350 degrees.
Cook for 20-35 minutes or until done.
Serve with extra applebutter on the side.