Apple Butter Barbecue Sauce
A W.9770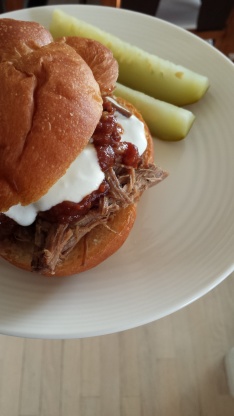 I saw jars of apple butter BBQ sauce at an apple orchard a few weeks ago. I thought this was a splendid idea—especially for ribs. I've scoured the Internet, and this recipe looks like the best bet. It's originally from Smuckers, (featuring their apple butter). That said, I made a large batch of apple butter (Crock Pot Apple Butter), so I'm using homemade. Again, use what you can get.

this is very good and as for some people . We find the area you are living in could change any taste problems . making changes may help you or just make your Carolina sauce. no one told people not to add or subtract items to fit taste.i am sure no one is holding a gun to your head.
Add everything together. Well, that's where their recipe ends. I think that's silly. So, let's continue.
Sauté the onion in a frying pan with a little bit of olive oil, medium heat. Cook till translucent.
Add the garlic, cook for about a minute.
Put everything into a sauce pot on medium heat, stir everything together.
Before a boil begins, drop the heat to low and simmer for 15-20 min., stirring frequently.
Take it off heat, let it cool for 30 minute (unless you're canning, of course).
Store it however you wish. It should keep in the fridge for 30 days, in a freezer for longer, or just can it.