Apple-Butter Banana Bread
Prep 15 mins
Cook 45 mins
This recipe is a bit unusual because there is apple butter added to the batter which replaces the fat that would come from butter (which a lot of quick bread recipes use) and there is also canola oil added instead of vegetable so It's a little healthier. The Apple Butter gives this bread a lot of flavor as well. Enjoy, This is delicious! From BHG.
Directions
Preheat oven to 350°.
Grease and flour bottom and sides of a 9x5 pan only about 1/2 inch up sides of pan and set aside.
In a large bowl combine flour, baking powder, cinnamon, baking soda, salt and nutmeg until blended and set aside.
In a medium bowl combine eggs, banana, apple butter, sugar and oil and blend.
Combine egg mixture to flour mixture, stir just until moistened and pour into prepared pan.
Bake at 350° about 45 minutes or until bread tests done with a toothpick.
Cool bread in pan for about 5-10 minutes and then remove from pan and cool completely on a wire rack.
It's best to refrigerate before serving.
*** NOTE: For nut topping, mix sugar and flour together and cut in cold butter with a pastry blender until mixture resembles course crumbs. Stir in nuts and top bread before baking.
Reviews
Most Helpful
What a neat bread. I liked the texture. It was kind of dense, but chewy, sort of. Different and distinct. The spices in it made me think it would be good in the fall or winter, but we've been eating it in the dead of summer just the same. I used the BHG version which I think had a little more sugar. I like it just as it was. I did add walnuts in the bread rather than using the topping, b/c to me a sweet bread isn't as good without them. Thanks!
I was actually using the BHG version, but I prefer the reduced sugar. I didn't do the streusel topping, since this bread is sweet enough. Super easy and super delicious.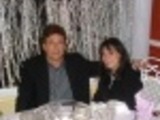 Yum, nice variation. To make healthier, I used just one egg and no oil. Worked out great!