Apple-Brown Sugar Pork Chops
HisPixie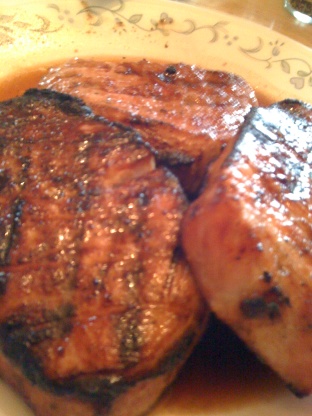 Simple recipe that doesn't need a lot of time to marinade. The pork chops turn out tender with a bit of sweetness from the brown sugar and apple juice. I grilled the meat, but it would work well on a skillet as well. Hope you like it.

Excellent. Grilled these tonight and we all enjoyed them. I did heat up the leftover marinade and add some cornstarch to serve as a sauce with the pork chops too. I marinated the chops for about 2 hours. Definitely a keeper.
Combine ingredients in a plastic bag or bowl.
Marinade pork chops in refrigerator (anywhere from an hour to overnight).
Grill over direct medium heat for 10-12 minutes, turning once.
Serve with rice (if desired).