Boomette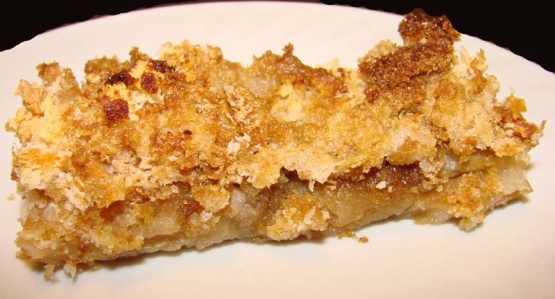 DBMNMR Recipe - Gale Gand - Update: 9/15/2006 adopted from the Recipezaar account. Original author = Mean Chef.
I used chopped and not sliced and my son and hubby love it!
Preheat oven to 375 degrees.
Peel, core and slice apples.
Place the bread slices in a food processor and blend to make fresh crumbs or finely chop it up.
Rub a 1-quart baking dish thickly with butter then sprinkle liberally with brown sugar.
Add alternating layers of sliced apples, sugar, and bread crumbs, then repeat, ending with bread crumbs.
Thickly sprinkle with sugar and dot with extra butter.
Sprinkle on the water.
Bake for 45 minutes to 1 hour until well browned on the top.
Serve warm with vanilla ice cream.