K9 Owned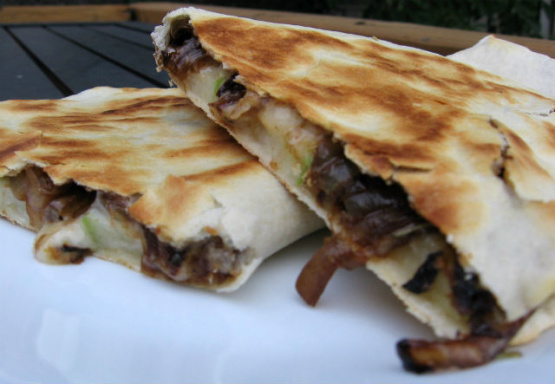 France and Mexico meet in this recipe. I've not tried brie cheese yet, so I'd like to try this sometime. For Zaar World Tour II 2006

WOW. Thos is amazing. I used Granny Smith apples with Brie and I sprinkled a little parmasean on the outside of the tortilla before I grilled it to give it a little crisp. It was fantastic, you almost don't need any sides for this dish. It's fresh and decadant and worth making any night of the week.
In a skillet over medium heat, cook the onions, vinegar, sugar, thyme and rosemary in oil for 10 minutes or until onions are golden.
Spoon the mixture over half of each tortilla and top with apples and cheese.
Fold over.
Cook on a griddle over medium heat for 2-3 minutes on each side or until cheese is melted.