Apple Bread Pudding (Pampered Chef)
CindiJ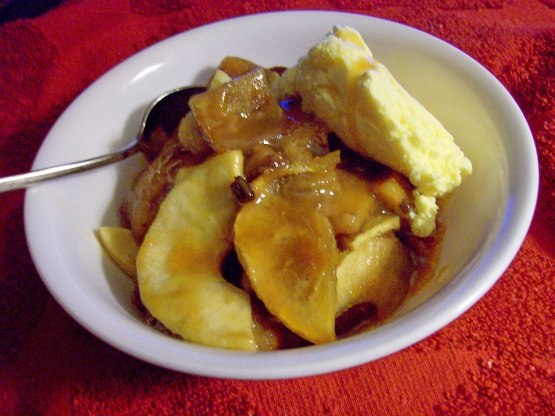 Years ago my little sis was a consultant for Pampered Chef and she made this for a party. I copied this down on a recipe card (very faded now) and long ago gave away the booklet this came from. This is incredibly easy and oh so very good. I like to serve this warm with a vanilla custard sauce or Poor Man's Sauce.
6

cups cinnamon raisin bread, cubed (approx. 10 slices)
1⁄4 cup butter, melted

3

granny smith apples, sliced

1

(12 1/2 ounce) jar caramel sauce
Cube bread and toss with melted butter. Set aside.
Preheat oven to 350º (f) and spray 9x9 baking dish with non-stick cooking spray.
Slice apples thinly (you can leave peel on if so desired) and evenly layer 1/2 of the apples in bottom of prepared dish.
Top apples with 1/2 of the bread cubes, making sure to layer as evenly as possible.
Pour 1/2 of the jar of caramel sauce over the bread and repeat the layers with remaining ingredients.
Bake for 30 minutes. Serve warm.