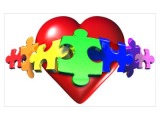 This recipe came from a children's book that someone at the school that I worked at copied for all the staff. It came with a small story of how an Italian woman in the author's parish would make many of these loaves to give out to the children to celebrate St. Joseph's Day. The bread is very moist and delicious.
Directions
Beat together sugar, oil, and eggs.
Sift together flour, salt, cinnamon, and baking soda.
Add to liquid mixture.
Add vanilla, apples, and nuts to mixture.
Put into two loaf pans sprayed with Pam.
Sprinkle tops with sugar.
Bake at 350 for 1 hour or until done.
Most Helpful
Wonderful! easy to make, turned out beautifully, got many compliments on the bread & requests for the recipe.
This was an excellent bread. I changed it a bit. I added 1 1/2 tsp cinnamon, 1/4 tsp nutmeg and substituted raisins for nuts. It got a thumbs up by all and will also be excellent toasted in the morning. :O) Adding this one to my recipe box.
This is a really good recipe! I did change it up a bit, as I tend to do, based on other helpful reviews. What I did was: I used half sugar/half Splenda, 3/4 c. plain applesauce and 1/4 c. canola oil, 1 *heaping* teaspoon cinnamon, I omitted the nuts (personal preference), and I added 1/2 tsp. of apple pie spice to the dry ingredients. The applesauce substitution and the apple pie spice helped to make it more apple-y, and it was healthier to boot! The recipe didn't say what loaf pan size, so I baked the loaves in 2 9x5 loaf pans at 350 for 50 minutes (which worked well), and the loaves were a little bigger than half the size of trtls's picture. I think 8x4 loaf pans would be perfect. I used 3 large Granny Smith apples, and it was the perfect amount. I brought one loaf to my friends at work, and one of them couldn't stop eating it long enough to tell me how much he liked it! Thanks for the recipe, everydaymom! I will definitely be making this bread again, with these minor changes.