picklejuice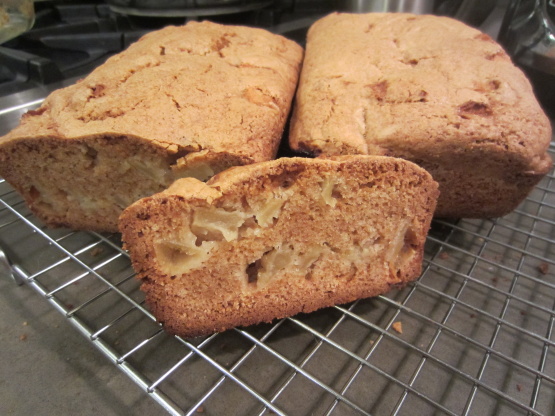 This apple bread recipe is from Puffin Inn in Ogunquit, Maine

Delicious! Rich-tasting because off all the eggs and oil. I sprinkled the top of the loaves with cinnamon sugar before baking and it made a delightful little sugary crust on top. My only suggestion is to bake it for 50 - 60 minutes, and check on it. I baked for 60 minutes without checking on it and it got a little overcooked. Otherwise a very yummy loaf of teatime bread!
Mix flour, cinnamon, soda, salt and baking powder together.
Beat eggs and add sugar and oil.
Add vanilla and dry ingredients.
Stir in apples.
Mix walnuts in a tsp of flour and add to batter.
Pour into 2 greased loaf pans.
Bake at 350 degrees for 1 hour.