PanNan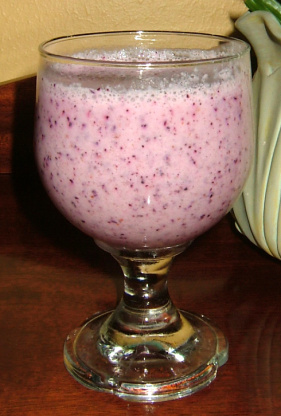 This is a British Columbian recipe from Canada. The soil is so rich there, it produces luscious berries and apples. UPDATE: Due to reviews, I have added sugar to the ingredients. Add to taste or don't use-your choice!

This Canadian approves! Thanks for sharing a delicious breakfast recipe. I used 1 cup of unsweetened applesauce, 1 cup of low-fat plain yogurt, and frozen blueberries. I also added 1 tsp cinnamon, and two servings of vanilla hemp protein powder. I omitted the ice cubes, and did not add sugar - it was perfectly sweet for our tastes. Next time I might try adding apple juice instead of milk. This will definitely be made again!
Place all ingredients in blender and blend until smooth. Serve in a summery glass with a straw and garnished with a fresh berry or thin apple slice. Enjoy!