robd16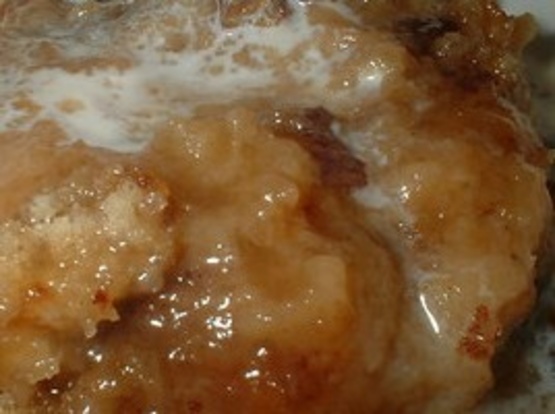 This is much nicer than it perhaps sounds, its proper stick to your ribs material and makes a quick cheap supper time pudding, it is in fact a sweet type of Yorkshire pudding. The golden syrup and evaporated milk are essential if you want the full experience especially as the pudding itself is not very sweet. Old fashioned pudding goodness mmmm!
4

apples, cored and sliced thickly (peel them if you like too)

2

tablespoons cooking fat or 2 tablespoons cooking oil

2

tablespoons sugar

For the batter

100

g plain flour (all purpose)
1⁄4 teaspoon salt

1

egg, beaten

250

ml milk (can use half milk half water)

To serve

8

tablespoons golden syrup (approx)

0.5

(400 g) can evaporated milk (approx)
Preheat the oven to 220C/425°F.
Make the batter by sifting the flour into a bowl with the salt, make a well in the centre and add the beaten egg and half of the milk.
Whisk for a minute or two until no lumps remain then stir in the rest of the milk.
Put the cooking fat into an oven proof dish and heat in the oven for 5 minutes.
Working quickly, spread the apples evenly in the dish and pour over the batter mixture.
Bake for 30-40 minutes until browned and well risen.
Serve immediately with lashings of syrup and evaporated milk.
Tip: Place the jar of syrup in a bowl of hot water and it should be easier to manage.