WiGal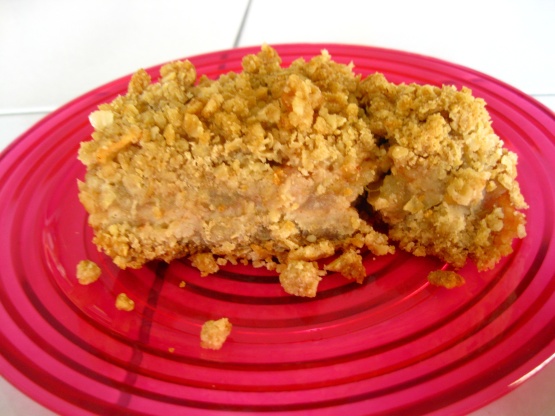 Apples and oatmeal go so well together! (Adopted recipe)

Top Review by ShaGun
I brought these to church for breakfast. They went over well. I doubled the recipe and put everything into a 13x9-inch pan. I baked it at 375 for 30 minutes. I also drizzled melted white chocolate on top after it cooled. Next time (and I will make this again) I'm reducing the amount of margarine and sugar added to the apples by at least half. I also added apple pie spice, which was good.
In a large bowl, mix together oats, flour, margarine, baking soda and brown sugar.
Blend well.
Spread half of the oats mixture in a greased 9 x 9-inch baking pan.
Press down firmly.
In a separate bowl, combine apples, 2 T.
margarine, sugar and cinnamon.
Spread over the oats mixture in the pan.
Cover with remaining oats mixture.
Bake at 375° F for 40-45 minutes.
Cut into bars.