Apple, Banana, and Strawberry Froth
Rita1652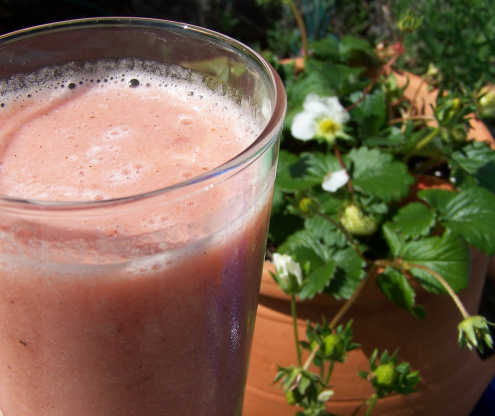 This is a yummy concoction put out by the US Apple Consumers Association. Enjoy!

An interesting tasting smoothie, very cardamomy with fresh cardamom seeds from the pod. My banana was not really ripe (still had green on the tip), I used an apple from the tree outside, local strawberries (small so used more), a very good alcohol free vanilla, local honey, apple cider from the regular grocery store, & no ice per preference but it could have done with being a bit colder. Made for Veggie Swap 38 ~ September ~
Place the banana, cubed apple, and strawberries in a blender. Scrape the inside of the vanilla bean into the blender, or add vanilla extract. Add honey and cardamom and puree at high speed, while slowly adding the cider. Add ice if you would like it really cold! Pour into 2 champagne flutes and garnish glasses with split strawberries.