loof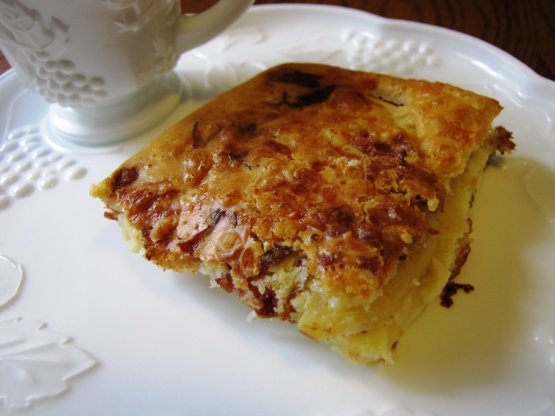 I haven't tried this yet, but it sounds really good.

Made this for a Mother's Day brunch. I slimmed it down quite a bit; used turkey bacon, 2% milk cheese, heart smart bisquick mix, lowfat milk, and eggs whites (whew!) - it still had a lot of good flavor despite all this tampering :)(DEFINITELY use granny smith apples!) I think this would be especially delicious in the fall with a mug of apple cider, but everyone really really enjoyed this spring brunch.
Mix apples with the sugar and layer in rows into a 13x9 pan. Cover the apples with cheese and sprinkle with bacon. Beat remaining ingredients together. Pour evenly over apples, cheese, and bacon. Bake at 375 F for 35-40 minutes until lightly browned. Serve warm. Serves 8.