Z1621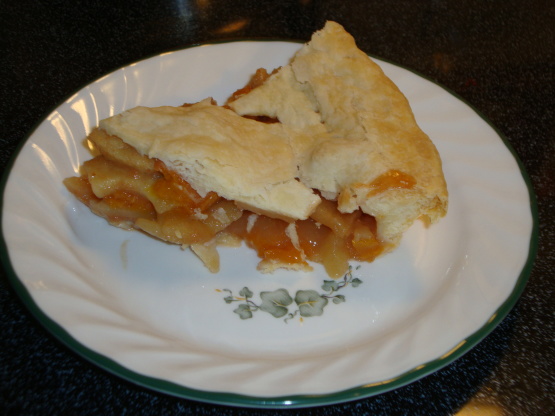 I love apples and apricots. Have not made this but want to, real soon.

I was pleased with how this pie tasted, but the juices from the fruit were really runny--the flour didn't thicken them up at all during the baking process. Maybe I should have added some corn starch. I also substituted Splenda for sugar and maybe that had an effect as well. Other than that, this was an interesting twist on apple pie and I will probably make this again if I can find a way to thicken up the filling next time. Thanks for posting.
pastry for double-crust pie

118.29

ml sugar

14.79

ml flour

2.46

ml cinnamon

1.23

ml salt

946.36

ml sliced peeled apples (about 5 medium)

236.59

ml coarsely chopped drained, canned apricots
Combine sugar, flour, cinnamon and salt.
Toss apples and apricots with sugar mixture.
Turn into pastry lined 9" pie pan; adjust top crust and flute edges; cut vents.
Bake in 400 degree oven until apples are tender and pie is golden about 40 to 45 minutes.