tulips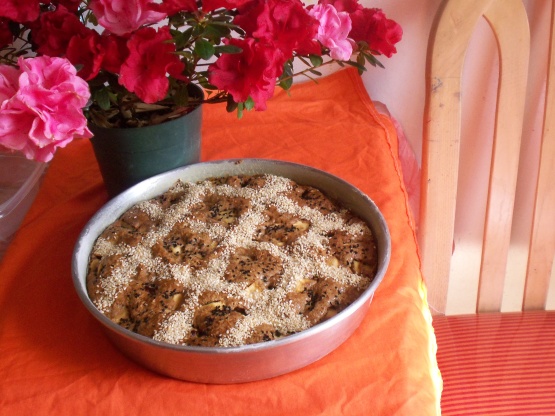 "This is a delicious cake enriched with fresh fruit and lusciously spiced. It tastes better the next day when the flavors really come together and the tartness of the apples settles. It is worth warming slightly before serving. I use coconut oil but you can substitute for extra virgin olive oil or melted sweet butter. If you do not have Turbinado sugar substitute for other loosely granulated brown sugar. Adding allspice takes away the slightly bitter taste of the whole wheat flour. Happy baking!"

This is a firm, dense, and very moist cake. I couldn't believe that the amount of apples called for would bake properly, but they did. Combining the whole wheat flour, cranberries, raisins, and nuts - it's almost a fruit cake - but more soft and moist. I used granny smith apples and toasted amonds instead of walnuts. The batter is SO chunky; thanks for the warning Tulips! Baked in a 13x9 glass baking dish at 350 degrees for about 55 mins.
Preheat oven to 350 degrees. Beat together eggs, sugar, oil, and vanilla until creamy.
In a separate bowl mix the flour, baking powder and remaining spices.
In another bowl mush the bananas until creamy.
Add the bananas to the egg mixture and beat well. Then add the flour mixture and beat well. Then add the raisins, walnuts and cranberries and mix again.
Finally add the apple chunks and mix with a spatula. The end mix will look like chunks of apple covered with cake batter. Do not get discouraged, pour on an oiled and floured baking dish and pat down mix with a spatula, filling in gaps as you go. I made a grid pattern with sesame seeds and sprinkled some black seeds in the voids. I sprinkled the cake with Turbinado sugar to give it a rich fancy finish. Bake for 1 hour depending on your oven.