Apple Annie's Tea Room's Chicken Salad
Derf2440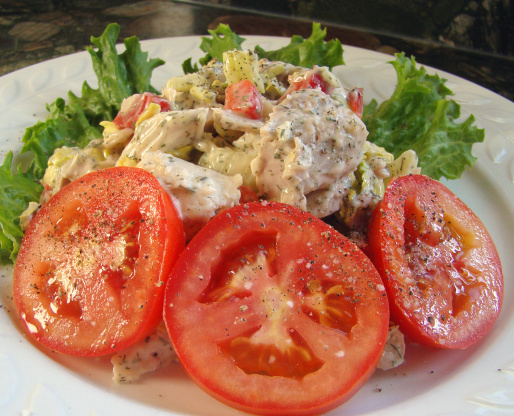 Apple Annie's is a wonderful little tearoom in San Antonio. They make a lot of great tasting dish's. I am listing 2 of the favorites that were posted in the newspaper. Enjoy!

We liked this chicken salad very much and I will be making it on a regular basis especially throughout the summer.The combinatin of dill, mayo and dry ranch dressing was very good. I used no fat mayo and used left over Easter turkey instead of the chicken. Just made enough for the two of us for supper, thanks for posting.
Preheat oven to 325 degrees.
Wash chicken breasts and pat dry.
Place on large foil-lined baking sheet and bake until cooked through, about 30-35 minutes.
Remove and set aside to cool.
Cut into chunks and transfer to large bowl.
Add celery, red pepper, dill, ranch dressing and mayonnaise.
Stir gently but thoroughly to blend.
Refrigerate to allow flavors to meld for at least a couple of hours before serving.