Parsley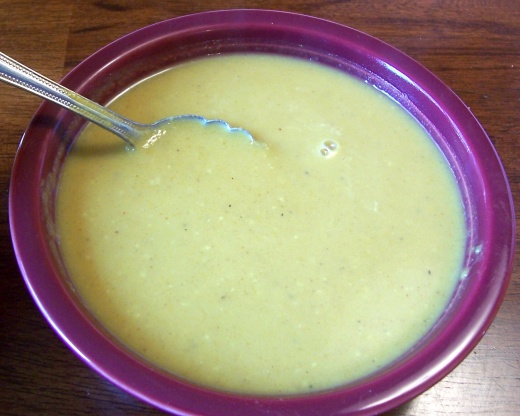 A great autumn soup! When I first submitted this recipe, I forgot the cream....oops, sorry. Still is a quite spicy soup.

Top Review by szien
My biggest concern with this recipe is the amount of cayenne requested. We generally love spicey food but I was suspicious of the amount so I put in less than half. The soup was still unpleasantly hot so that I could not appreciate the other flavors. The recipe was not difficult to make, however, I had to use a tip from somewhere else as to how to peel a squash. I did it by submerging it in an inch or two of boiling water for 15 minutes and then allowing it to cool completely. Scooping the seeds out and peeling it was a breeze after that. I won't be making this soup again.
In a large pot over medium heat, heat olive or vegetable oil. Add onion and saute until golden brown. Add garlic, curry powder, cumin, and cayenne pepper; cook, stirring constantly, 30 seconds.
Add squash, chicken broth, water, apples and salt and pepper. Bring liquid to a boil; reduce heat to low and simmer, covered, 25 minutes or until squash is tender.
Remove from heat and stir in light cream.
Puree mixture in a blender or food processor, in batches and return to pot to heat through.
Serve.