Annacia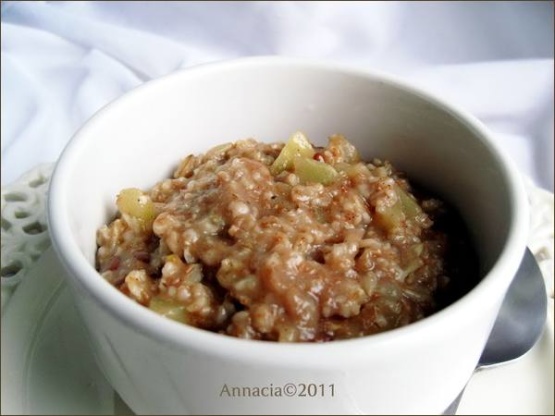 This porridge is delicious and diabetic-friendly when made with traditional whole grain oats and yellow box honey.

The f;flavors are a treat in this, I used Chinese 5 spice which opened a whole avenue to brekkie oatmeal :D. The 2 cops of water ask for would have been far to much for my taste and I used less than half that amount and I cooked it 4 mins instead of the 8. Mind you this is my personal taste and you may prefer it as written. Either was it's a lovely oatmeal.
Place the apple, oats, cinnamon, mixed spice, milk and 2 cups of water in a large microwave-proof dish.
Cook on high (100%) for 8 minutes, stirring every minute, until thick.
Set aside for 5 minutes.
Serve drizzled with the honey and slivered almonds.