Apple and Spice Pizza Cookies
Thorsten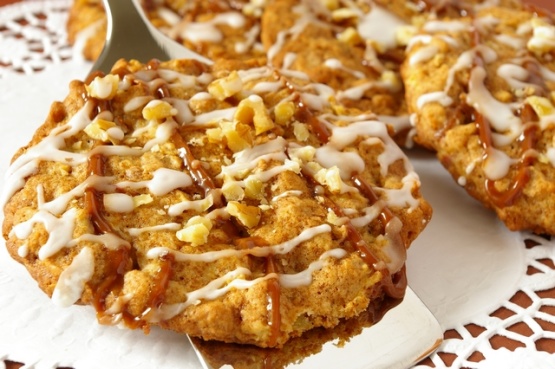 I LOVE Apples! When asked to share my apple recipes, I thought that it was wonderful because I am always on the lookout for different ways to use them.

It doesn't happen that often, that I got raving about a recipe, when I do it the first time. But these cookies are so adorable, so heavenly good, that you should stop reading here, print out the recipe and make it right now!!! ...for those, who would like to read my review first, here it is: I followed the recipe, except that I made 10 smaller cookies instead of one pizza cookie. And I melt the butterscotch chips and drizzle them over the cookies. But these changes didn't affect the cookies. I used walnuts instead of pecans. I love the taste of the cookies. Inside they were still a little soft, but the outside was a wonderful brown. The slight tart apple I used went so well together with the cinnamon and vanilla. And the oats blended all the different flavours so well and kept the inside that little fluffy it needs. The different drizzelings on top make the cookies look so wonderful and some great additional flavours, especially the powder sugra & milk drizzle is fantastic. And the nuts add an additional crunch to these awesome cookies. ...did you need more reasons to make these gems? Wonderfull looking cookies, heavenly tasting, and so impressive. And the best: your guest won't believe how easy they are to make. If you make these for guests double, triple the recipe, but I'm sure they will be gone so fast, that you should eat your piece of heaven before your guest arrive. ... a personal favorite from the very first start. Thanks so much for this master piece of a cookie recipe.
Beat margarine and sugars until creamy. Add in egg and vanilla and beat. Add in dry ingredients and beat until smooth.
Stir in apples and oats. Spread evenly on generously greased pizza pan. Bake 20 to 25 minutes or until golden. Remove from oven.
While the crust is hot sprinkle with the butterscotch chips. Let stand until soft then spread. Sprinkle 1 cup chopped pecans on top of the butterscotch.
Sift powdered sugar, add milk. Mix until smooth. Drizzle on top of pizza cookie.