awalde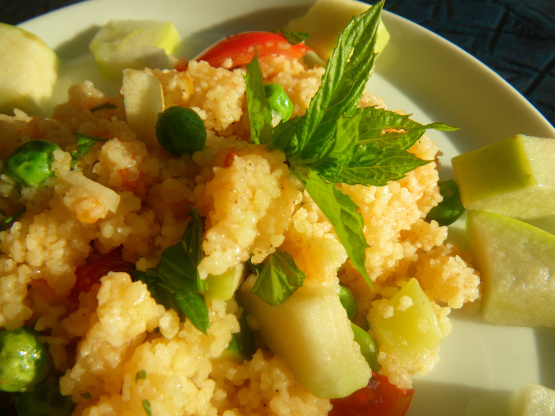 Recently, I began eating couscous and I like to try different recipes. I saw this one in the magazine of Ricardo. ETA : I made it on September 5, 2011. I omitted the peas. I used a Paula Red apple. It's so yummy. Great blend of flavors.

This really "hit the spot". DH could not stop eating it. I wasn't sure that the combination of veg and apple would work, but it did!! I felt that 4 cloves of garlic was going to be too much so i only used 3. But I should have stuck to the recipe and used all 4. Make sure to taste the couscous before serving to adjust the salt. I used home made broth (no salt) so the end result needed a fair amount of salt added to it to bring our the flavours. Over all a very good and easy easy dish to make. and well writen recipe that was simple to follow. Will certainly made again.
In a saucepan, lightly soften the veggies (DO NOT ADD apples, mint and butter) in oil. Add stock and bring to boil. Add salt and pepper. Remove from the heat and add couscous. Cover and let stand 5 minutes. Fluff with a fork.
Add apples, mint and butter. Adjust seasonning.