PaulaG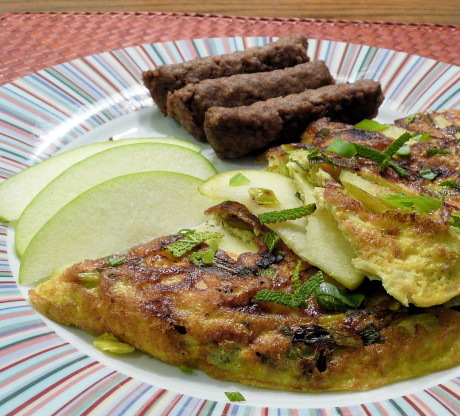 I recently purchased "The New American Plate" a wonderful cookbook filled with dishes with sophisticated flavors that are also healthful – lots of lean meats, grains and vegetables. This frittata is my own take on one of my brunch favorites – with autumnal flavors that give another reason to love sleepy Sunday mornings. Though usually served hot for brunch or a light supper, it makes a great snack served at room temperature.

Yum! But AS IF this serves 4! It served 2 of us with a large salad! Or are we just greedy? :)
4

large eggs

4

large egg whites

1

large apple, peeled and julienned (Fuji or Mutsu/Crispin apples work best)

1

medium leek, rinsed well and thinly sliced

1

tablespoon fresh sage, chopped
sage leaf (to garnish) (optional)
cooking spray
salt and pepper
In a medium bowl, beat together the eggs and egg whites and set aside.
Coat a large skillet over medium heat with cooking spray and add leeks sautéing for 1 or 2 minutes.
Add the apples and continue to cook until the apple is just tender, about 3 minutes; add sage to the pan; season with salt and pepper to taste.
Spread the apple and leek filling evenly around the pan; add eggs and swirl so that each piece of the frittata will have an equal amount of egg and filling.
Reduce heat a bit and cover the pan, cooking 3-6 minutes until the eggs are set.
Cut the frittata into fours and ease the slices onto the serving plates; garnish with additional sage if desired.