truebrit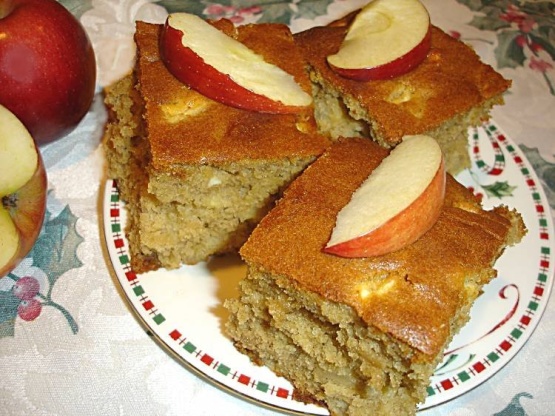 This recipe came from a culinary arts teacher in London. She gave a piece of the dessert to my mother to sample, along with the recipe. That was back in the early 1970's, and I'm still making it today! I still have the yellowed paper that the recipe was typed on!) If you don't have Golden Syrup (a British product), maple syrup or honey can be used instead.

this was really easy to make and makes a high dense cake. i think i should have cooked mine longer, it was still a bit wet in the center although the edges were browned. i did serve it with whipped cream and a sprinkling of grated nutmeg and cinnamon.
Preheat oven to 350°F, Grease and flour an 8-inch square cake pan and set aside.
Peel, core and chop the apples.
In a bowl, cream butter and sugar until light and fluffy.
Beat in the eggs and syrup.
Sift flour, ginger and cinnamon, and fold into creamed mixture with the apples.
Put mixture into prepared pan, and bake for 40-45 minutes, or until cooked.
May be cut into slices, or left as a cake and decorated with whipped cream and sprinkled with cinnamon.